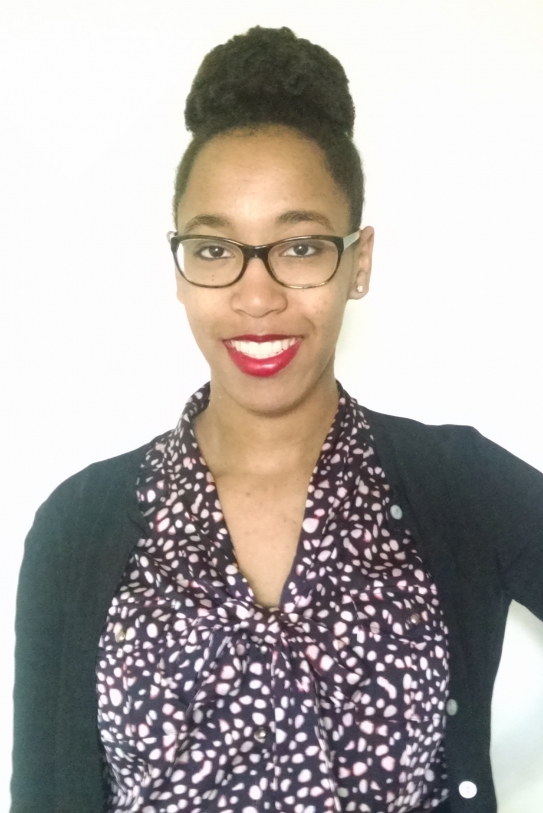 Delilah Gates is an outstanding 2015 graduate majoring in physics and mathematics. Delilah has made numerous contributions to the physics department, serving as SPS president and conducting research on supersymmetry. For her research, she received an award at the 2015 Conference for Undergraduate Women in Physics and gave an engaging research talk at the department Undergraduate Research Showcase in April.
We had Delilah answer some questions about her experience as an undergraduate physics major at UMD.
What are you planning to do after you graduate?
After I graduate, I will be attending Harvard University's physics PhD program as my next step in pursuing a career as a research scientist. Ultimately, I would like to be a research scientist, teacher, and advocate for underrepresented groups in STEM and STEM education. I'm not exactly sure what this will look like or whether I will do them all at the same point in my life, but I love working on new problems in physics and I think it is very important to give back. I think members of underrepresented groups in physics need more encouragement, inspiration, and support if the diversity of the physics community is ever going to reflect the diversity of the larger community.
What was your favorite part about being a student in the UMD Physics Department?
I think there is a great sense of community, support, and comradery in our department. The professors are approachable and really take the time to support students' understanding of physics and getting involved in research. Students offer each other a lot of support in studying and more generally. SPS is very dedicated to supporting students and the department, as well as giving back to the community at large. And it all feels motivated by the fact that we value each other as people and love sharing our excitement about physics. There are so many opportunities through classes, research, and SPS that the department has to offer and pretty much everyone is willing to help you take advantage of them to the fullest.
What was your favorite part about being a student at UMD?
I think UMD is a great University. There are so many activities, clubs, classes and research opportunities to take advantage of here. There are also so many different kinds of people to befriend and converse with; I think almost everyone can find a place here.
What was the most surprising part about your research experience?
I think I was most surprised by how much I enjoyed it. I was surprised at how exciting and rewarding fiddling with equations, numbers, and code is for me in theory research. I was also surprised at how useful I was able to be on my first theory project.
Do you have any advice for new physics students?
You do deserve to be here if this is the field of study that excites you and you are willing to work hard. So don't worry about being smart enough. Don't get discouraged; it's okay to not be perfect. A few mistakes will not cause the world to end or destroy your future. Just work hard and focus on your understanding of physics.
Don't be hesitant. If you have a question, ask it. Start research early. Talk to professors who do work that interests you and do not be discouraged if the first few people you talk to do not have space for a new student. If something is not right or makes you feel upset and put down, ask for help/advice from a mentor, fellow students, a professor, or staff in the OSES.
I think the physics major and the process of preparing for physics graduate school and careers in physics are very tough. I struggled a lot with impostor syndrome and fear of failure. The support I got was invaluable and in retrospect I could've been more productive with a lot of the time I spent worrying and beating myself up. I think this advice is especially important for students who are members of underrepresented groups, even if no one blatantly puts you down for being different, it is easy to feel out of place or like you don't belong and be subject to jokes and comments that make you feel uncomfortable.
Who or what influenced you the most in your life so far?
My biggest influences in life thus far have been my parents. They both have doctoral degrees and very successful careers; they are very hard workers. They raised my twin brother and me by the same standards. We were both allowed to play with action figures and dolls. Growing up with them I never thought I could not do certain things because of my race and gender. When I was child they played counting and arithmetic games with us and read with us. When I had trouble spelling and reading in elementary school, they never let me think I was stupid instead they helped me study one-on-one. I was also somewhat sensitive as a child and they were very understanding and comforting. They also never pressured us into picking specific majors and career. Throughout my life they have been my biggest supports. They taught me to value education, work hard, and be humble. I could not have made it to this point without their influence and support.
What is your signature phrase?
I don't think I have one. But I do like to say that "happy people skip" because I move a lot when I'm happy, and I describe myself as a "5-foot tall giant who will take over the world one year at a time."