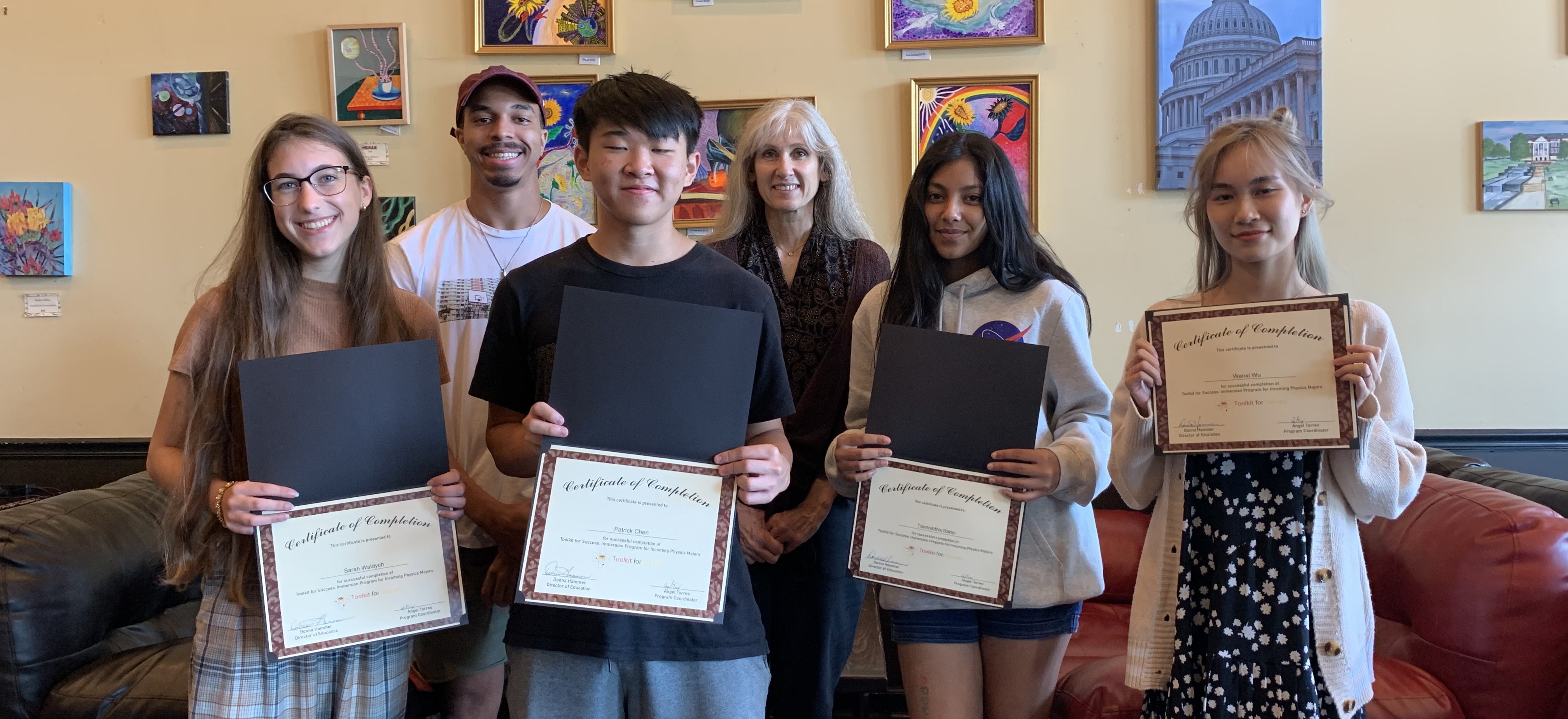 2021 Toolkit for Success Interns met with Program Coordinator Angel Torres and Director of Education Donna Hammer for lunch. From left to right: Sarah Waldych, Angel Torres, Patrick Chen, Donna Hammer, Tannishtha Saha, and Wenxi Wu. Not included: Shane Amare and Neil Shah.
Toolkit For Success is a pre-college research and workshop immersion program for newly admitted physics majors. Established by UMD Department of Physics' Office of Student & Education Services, Toolkit aims to empower and prepare underrepresented students prior to their first semester. Next year's program will run from June 27th to August 5th, 2022.
Research
Toolkit Interns are paired with professors and/or graduate student mentors to conduct research on a variety of research areas. Interns work with their mentors throughout the duration of the program and may continue their research after the final day of the internship.
"I wish I had had the opportunity to be a student in a program like this!" - Professor Bill Dorland, 2021 Mentor
Previous Projects include:
Analysis of a One-Dimensional Excitable Cell Network Model (Patrick Chen under Professor Losert and Corey Herr)
Simultating Stellarator Turbulence (Tannishtha Saha and Wenxi Wu under Professor Dorland)
Analysis of Organizational Documents by Physics Departments and Their Correlation to the Preparation of Their Students (Shane Amare and Sarah Waldych under Professor Turpen and Rob Dalka)
Analyzing Neural Networks and Predicting Futures of Dynamical Systems (Neil Shah under Amitava Banerjee)
Skills
Workshops are conducted by program coordinators and guests. Workshops include python lessons, understanding scientific journal articles, networking skills, and much more. Toolkit interns are prepared to feel confident in and out of the classroom. By the end of the program, students are able to talk to any professor, present at conferences, and become student leaders.
"If we have the capability of providing students with the resources and knowledge to seek the right problems and ask the right questions, not only is it a benefit to them but the department as a whole." - Angel Torres, 2021 Program Coordinator
Community
This is a community building program. Interns meet their research mentor in the first week, hear from undergraduate organizations, and receive talks from faculty and staff. There are several opportunities to unwind and connect with each other during and after the program. Prior to their first semester Toolkit interns already develop significant relationships with professors, graduate students, and other undergraduates. This is the program to join to excel as a physics major!
"Angel and Donna have done a great job at making this program a smooth transition into exploring research and welcoming first year students into our department." - Rob Dalka, 2021 Graduate Student Mentor
Applications will open in April 2022 to incoming Fall 2022 Physics Freshmen.
Interest form: https://ter.ps/Toolkit2022