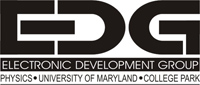 Electronic Development Group (EDG) is an electronics support service to the University of Maryland and its partners. EDG provides support in design, fabrication, packaging, cabling, test and repair of electronics. We have a knowledgeable and experienced staff that are committed to providing a high quality product while working closely with the customer to ensure the product meets their demands. We are ready to help you with any job, whether it's large or small. Please stop in or give us a call.
EDG Contact Information
0204 Physics Building
301.405.5975
This email address is being protected from spambots. You need JavaScript enabled to view it.
---

Mechanical Development Group (MDG) of the Department of Physics specializes in designing, creating, testing, modifying and repairing research equipment and teaching apparatus, i.e., mechanical, electro- and opto-mechanical devices, vacuum chambers and pressure vessels, molds, models, electronics enclosures/test specimens. By coupling the efficiency of CNC machining with the high precision of Wire & Ram EDM we can create unique or difficult-to-fabricate components. We produce prototype or production quantities of fixtures, fabricated assemblies and complex precision parts. Tolerances of +/- .001" are achieved by any of our skilled associates operating in our climate-controlled 14,500 sq. ft. facility. The MDG has three primary support activities: engineering, fabrication and materials sales.

The MDG is a self-support operation, i.e., all costs associated with projects and activities will be billed to the organization requesting services. Rates include labor, materials, tools, and time required to set up and clean up for each project.
MDG Contact Information
0305 Physics Building
301.405.5967
This email address is being protected from spambots. You need JavaScript enabled to view it.
* Shop services are typically $55/hour.