This innovative summer program combines physics, the real-life sport of quidditch, and the books and movies from the world of Harry Potter. Camp days are centered on learning physics concepts and playing quidditch. Campers learn about the physical universe by exploring the magic of Hogwarts and the concepts of mechanics, optics, magnetism, and modern physics. Participants also learn the exciting sport of quidditch and play daily scrimmages while practicing athletic skills. Campers are sorted into "houses" and compete in a week-long Try-Physics Tournament and Quidditch Cup. The camp culminates in a luncheon for participants and parents, a presentation of science concepts learned, and the championship quidditch match.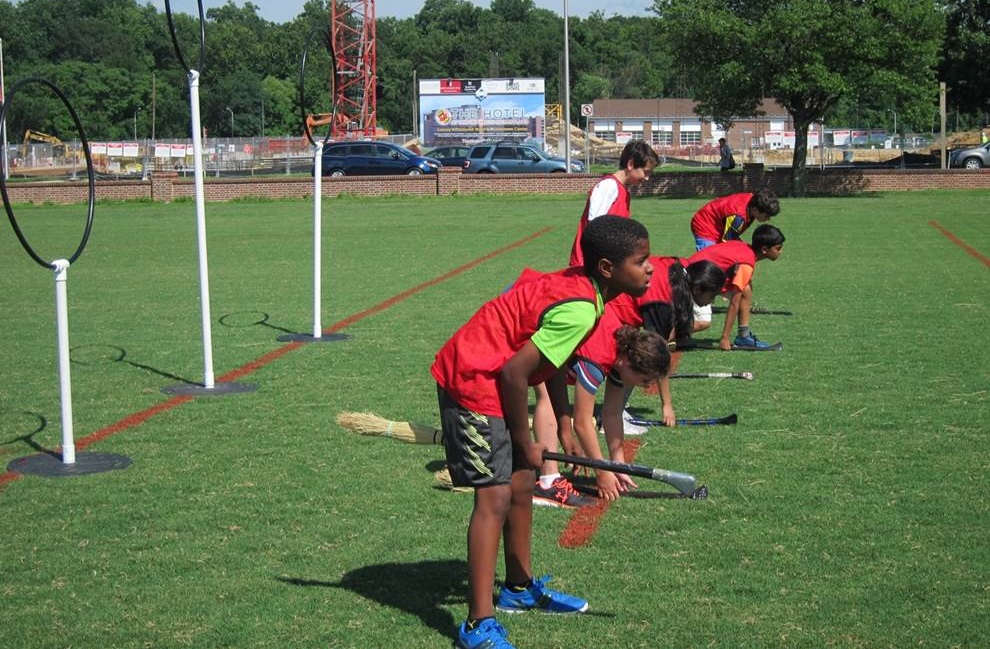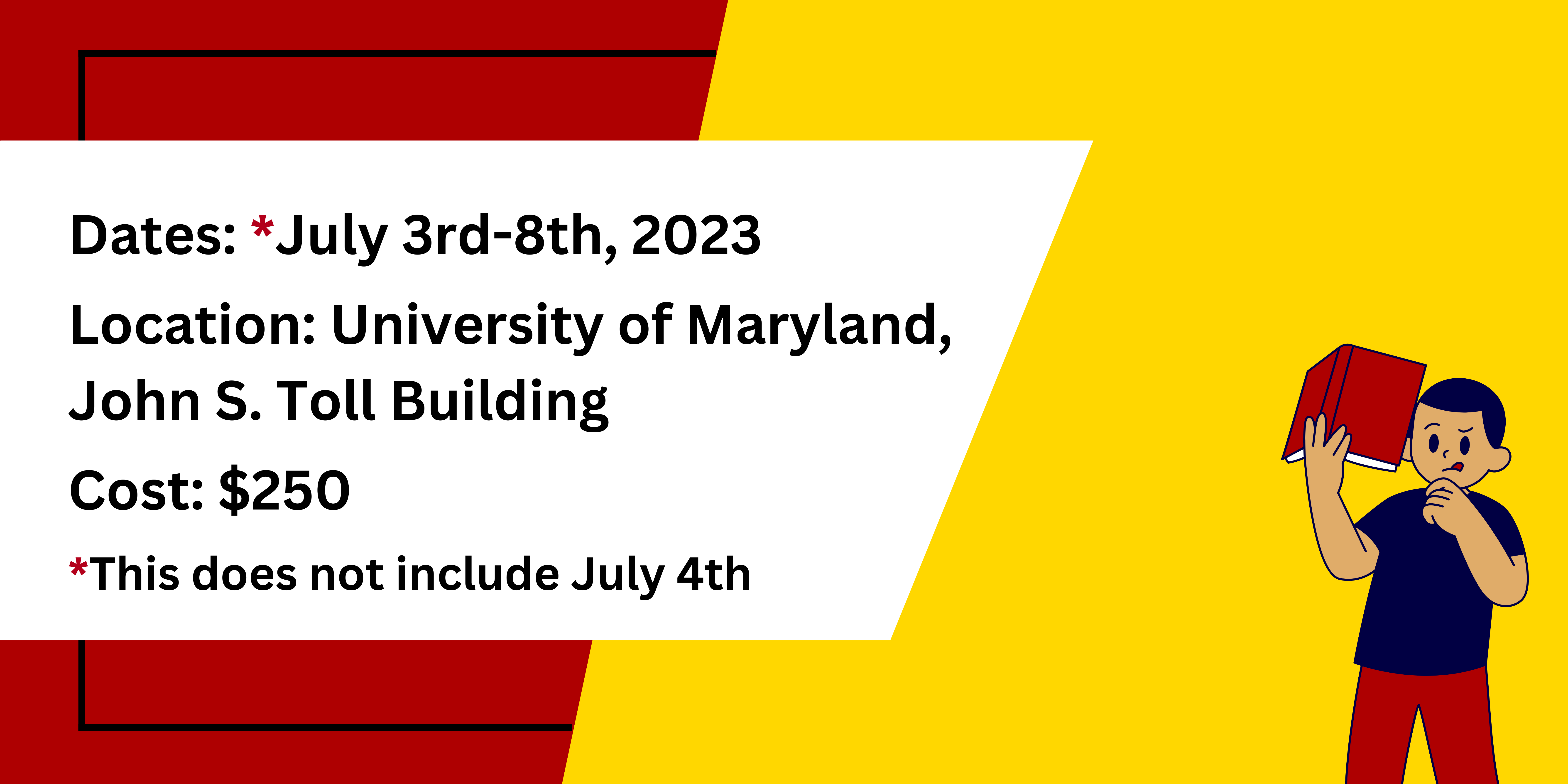 | | |
| --- | --- |
| Age: | Rising 6th-8th graders |
| Application: | This year's program is filled! |
| Contact: | This email address is being protected from spambots. You need JavaScript enabled to view it. |
Summer 2021 Recap
In response to uncertainties regarding COVID and its impact on in-person programming, the University of Maryland, Department of Physics created three unique virtual/hands-on summer camp workshops to engage elementary, middle, and high school students in STEM learning. Each camp followed the theme of one of our most popular summer programs, The Physics of Quidditch. To support our activities, we watched short clips from the Harry Potter movies to inspire and engage students to learn physics and STEM concepts. The UMD Summer Camp Team created kits of materials so each camper could perform every activity from thier own homes. We coordinated with parents to pick up the kits from campus and created a very engaging hybrid camp format.
Pictured (below right) is one of our campers and Director of Education, Donna Hammer with her 3D printed wand that had "magical magnetic powers!" Each camper got a wand and we learned about magnetic fields by discovering the wands magic powers using iron filings. Next (below middle) is on of our campers learning about engineering in a Hogwarts Tower building contest! Lastly (below left) is one of our camper mixing up a potion to extract DNA from a strawberry. We has a lot of fun over Zoom!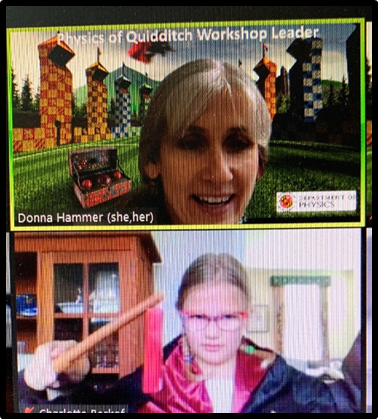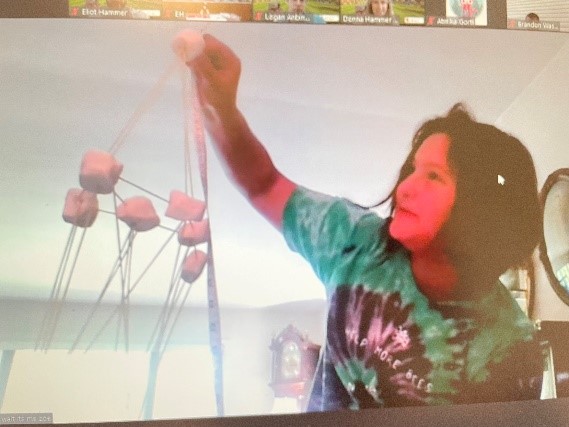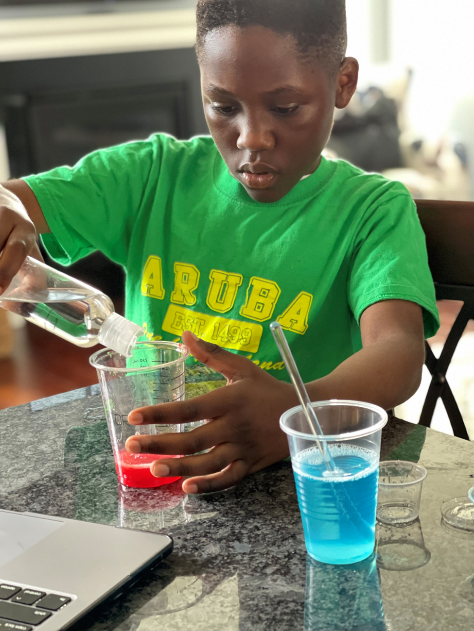 Summer 2019 Recap
The Physics of Quidditch camp had another great summer this year with two eventful week-long sessions. Structured around the Harry Potter series by J. K. Rowling, the camp aims to teach physics through the lens of the magic from Harry's world in order to make science concrete and approachable to its elementary and middle school audiences. The camp was led by Logan Anbinder and Donna Hammer, with counselor "prefects" Jack Allman, Alana Dixon, Tyler McDonnell, Kate Minker, and Holly Wilson, and counselor-in-training Tony Kuebler.
Over the course of the week, the campers learned the rules of quidditch and competed against other houses in a tournament which culminated in the awarding of the Quidditch Cup on the last day of the camp.
Each session, campers were sorted into Houses and were tasked with creating a backstory and a banner for their House. Each House's banner was completely unique, and contained well known science symbols and mythical creatures side by side.

L: House Phoenix Fire poses before a tournament match. R: The Infinity Dragons collaborate on their House banner.
Campers also learned some of the physics that would be involved if quidditch – or other occurrences commonplace in the wizarding world – worked without magic. They did activities to explore projectile motion, torque, levitation, and magnetism, learned to present demonstrations from the department's expansive Lecture Demonstration Facility, and were also exposed to current research going on at UMD. Grad student Kevin Palm spoke about his work in the lab of Professor Jeremy Munday, developing "smart windows" that can turn opaque on command, and the parallels between his research and the invisibility cloaks of Harry's world.
Another centerpiece of the camp was the Try-Physics Tournament. Houses competed against one another in a series of three tasks modeled on Harry's tasks in the Triwizard Tournament, but with a physics twist added in. Instead of saving an egg from a dragon, campers built devices to protect an egg from a 20 foot drop; instead of saving a hostage from the bottom of a lake, they built boats and competed to see which team's could hold the most amount of washers – which this year saw a new record set!

L: Two houses play a scrimmage against each other. R: The quidditch tournament champions pose with their medals.
The camp concluded with the campers presenting demonstrations they had learned throughout the week after competing in their last game of quidditch, pulling all the elements of the week together in a presentation.
One camper attested, "I would recommend this camp to a friend because it allows you to learn important things while doing physical activity and learning a new sport at the same time."
One parent said of their child's experience, "This was our second year participating in this program. My daughter found the Physics of Quidditch camp experience both intriguing and enriching. The blend of science and fantasy is a creative way for kids to be exposed to science concepts and have fun! We highly recommend this camp and will definitely be back again next summer."
We had a great time this summer and are already looking forward to next year!
Check out some photos from our amazing summer 2022!

Click here to read our summer 2018 recap.
(Image Credits: homepage tab - Isabella Gong Photography; flyer image - Michael E. Mason Photography)