As a student, Zachary Eldredge (Ph.D. '19, physics) examined the use of quantum mechanics to improve measurements.
"If you n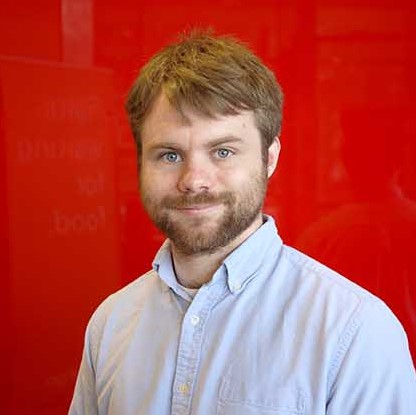 Zach Eldredge. Photo by Faye Levine.eed to know the difference in some quantity between two points, a common method is to measure the quantity at each point and then subtract," Eldredge explained. "Instead, we developed methods to measure the difference directly. Our methods are more accurate because we only measure once, not twice."
After graduating last May, Eldredge took this expertise and his strong physics foundation to the Department of Energy's Solar Technologies Office, which aims to make solar energy less expensive and more accessible and increase the amount of renewable energy in the United States. He spent seven months working in the office as an Oak Ridge Institute for Science and Education (ORISE) Fellow and is now a technology manager.
"The process of how technologies progress from lab science to usable products is really interesting to me and was important to my quantum research, as quantum technology is trying to make that same leap at the moment," he said. "In addition, physics has been a wonderful foundation. A good physics education prepares you to pick out the relevant patterns and generalize knowledge really quickly, and it's been a great help in giving me the background to get up to speed on all kinds of other technologies."
Eldredge knew early on in his studies that he was interested in finding a science policy job to align with his interests in climate, renewable energy and technology development.
"I really wanted to shift gears from my academic work into something more climate focused, and the ORISE fellowship provided a great opportunity."
During his time at Maryland, Eldredge co-authored nine publications, including three first-author papers published in the journals Physical Review A and Physical Review Letters.
"I'm proud to say that two of Zach's papers are the highlights of my own research over the past few years," said Alexey Gorshkov, Eldredge's advisor who is an adjunct associate professor in the Department of Physics and a physicist at the National Institute of Standards and Technology. "In fact, these two papers are so promising that we filed patents for the corresponding ideas, all having to do with the harnessing of the peculiarities of quantum mechanics for technologies such as powerful computing, secure communication and superior sensing."
In addition to his work in the lab, Eldredge served as president of the social activism group Science for the People UMD and as a member of the Graduate Student Government.
"Not only is Zach an excellent physicist, he was also an excellent citizen of the department," said Steve Rolston, professor of physics and department chair. "He was one of the most active members of our self-organized graduate student committee, which strives to make graduate school as positive an experience as possible."
Eldredge also participated in public outreach activities, such as the American Physical Society's Congressional Visits Day, the USA Science & Engineering Festival, and UMD's Maryland Day.
"I felt I had a duty as a publicly funded scientist at a major public university to reach out and talk to people, because the knowledge I gained there belongs to everyone," Eldredge said. "When we discover amazing things, it is on us to communicate about them to the public."

Written by Chelsea Torres