Ever since he completed his Ph.D. at the University of Maryland, Douglas Arion (M.S. '80, Ph.D. '84, physics) has been an innovator. He has always enjoyed the challenge of building things from the ground up—houses (he designed two), groundbreaking technology, unique academic programs and even college sports teams.
"I think I'm inventive and creative and have always wanted to build and make things that aren't what's expected," Arion said. "I've always been somebody who wants to make stuff happen."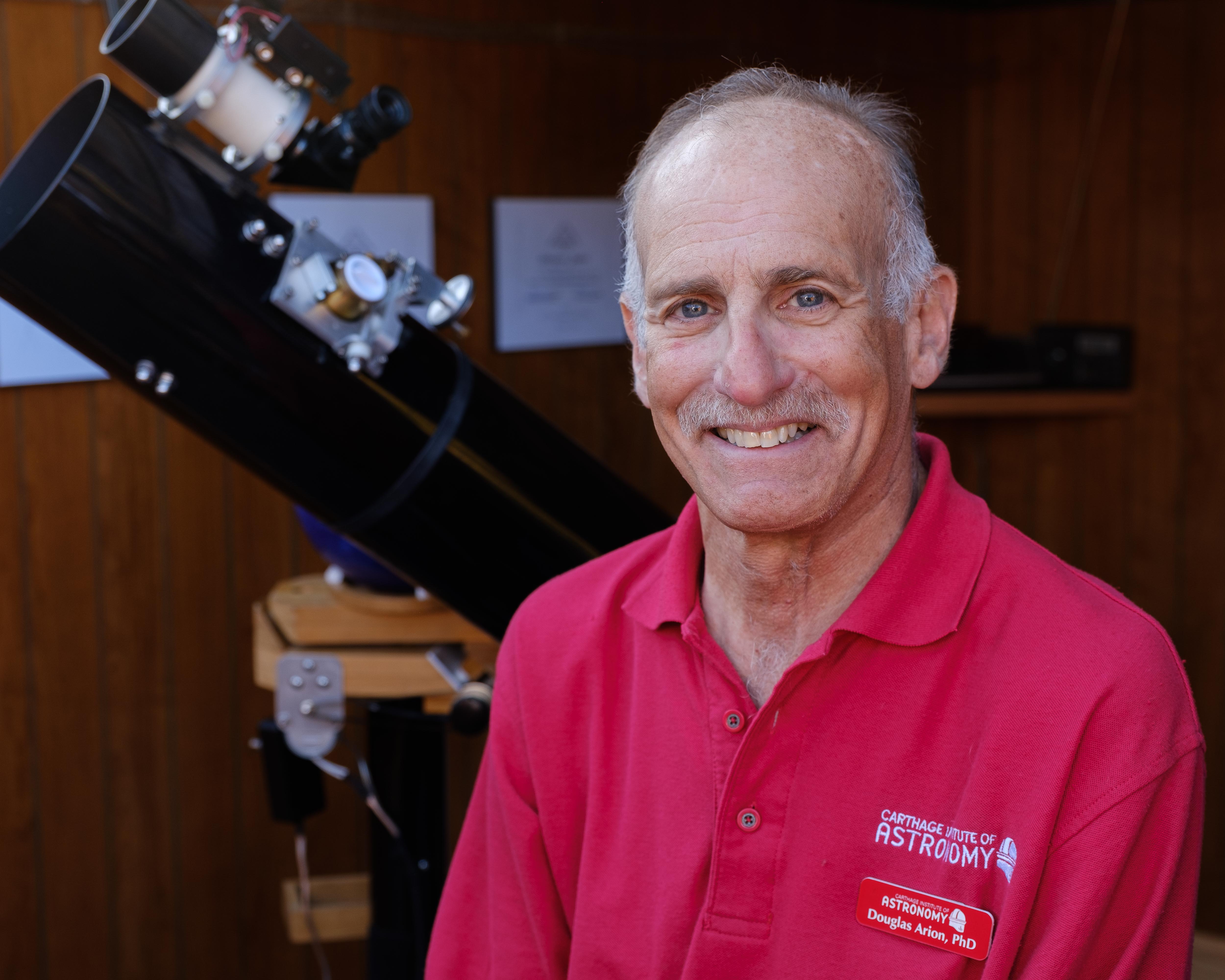 Douglas Arion. Photo by Rebecca SteevesAnd for 35-plus years, he's been doing just that, thanks to his strong foundation in physics.
"If you understand physics you understand everything, because everything fundamentally is based on physics," Arion said. "I don't think there's been a discipline I've worked in or a technology that I've worked on or used or a field that you can't apply it to. If you understand physics, you can do anything."
At UMD, Arion's Ph.D. research was a complex blend of plasma physics, quantum mechanics and astrophysics.
"I found a way to quickly determine when a magnetic field can rapidly change shape and break—such as when there's a flare on the sun," Arion said.
Arion had plenty of inspiration. His friends and study partners included Penrose "Parney" Albright (M.S. '82, Ph.D. '85, physics), who went on to become assistant secretary of the U.S. Department of Homeland Security, and David Douglas (M.S. '82, Ph.D. '82, physics), who spent 35 years exploring the nature of matter as a senior scientist at Jefferson Lab in Virginia.
"The folks who graduated with me have gone on to do some really amazing things," Arion said. "We were good friends. I still stay in touch with many of them today."
Arion would begin making his own mark as an innovator soon after he left Maryland, when a connection he made on campus led to a job at Science Applications Incorporated (SAI), a Virginia-based defense contractor.
"I was first involved in modeling and analysis of radiation effects on spacecraft and missile systems, that was the first big project we worked on," Arion said. "I ended up working on a whole bunch of different defense-related projects in radiation areas."
Climbing through the ranks at SAI to assistant vice president, Arion led the design and testing of systems including space-qualified optics and high-precision structural measuring systems for more than a decade.
Then in 1994, he moved on to a completely different kind of challenge, inspired by an ad he saw for a unique position in academia—an endowed chair in science and technology entrepreneurship at Carthage College in Kenosha, Wisconsin.
"Carthage had received a donation from an alum, a former chem major, who said, 'You need to start a program to teach science students how to launch ventures and how to run things,'" Arion explained. "So, I put in a resume and got hired. I built the country's first program for undergraduates in science and technology entrepreneurship. And that was before it was sexy—you know, everybody has a program now. "
For Arion, it was another opportunity to build something from the ground up—this time, a program to teach science students the things they weren't learning in the traditional college curriculum.
"When I created it, I started out saying in my head and then on paper, what's all the stuff I wish someone had told me before I became a corporate exec, because there was a lot of stuff I had to learn on the fly," Arion recalled.
Soon, Arion was teaching his students everything from personal finance and retirement planning to accounting, intellectual property and regulatory issues for business—all while coaching the college's hockey team. His groundbreaking science entrepreneur program was so successful that it became a model for similar programs at colleges and universities around the country.
In 2015, Arion's efforts were recognized by his peers. Elected as a Fellow of the American Physical Society, he was honored for "groundbreaking work towards improving the educational impact of the physics degree by promoting the widespread adoption of entrepreneurship training and mindset within the discipline."
Arion enjoyed academic life in Wisconsin, but as time went on, he missed the wild beauty of the New Hampshire mountains, where he spent summers hiking and biking as a boy. Arion never lost his love for the outdoors—or his passion for protecting the environment. And after more than a decade at Carthage College, he saw an opportunity to take his innovative energy—and science education—in a new direction.
"I've always been very unhappy with the general understanding of science in this country, and in particular when it comes to the environment," Arion explained. "I wanted to do something different."
His plan was to reinvent environmental education and change the way people see their place in the world around them.
"From my perspective, most people in western culture think that human beings are more important than everything else," he said. "We look at every resource as something we can just take. If we're more aware of our place in the universe we will become more protective of the resources that are all around us."
That idea was the inspiration for Mountains of Stars, a program Arion launched in 2012 with a simple mission.
"We call it environmental awareness from a cosmic perspective," he said.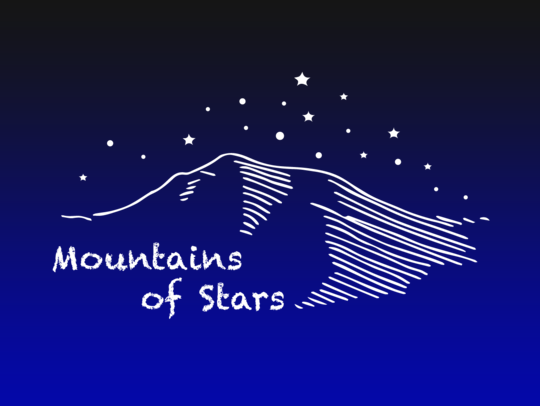 Funded by the National Science Foundation and other supporters, Mountains of Stars began as a partnership between Carthage College and the Appalachian Mountain Club, the oldest outdoor recreation, conservation and education organization in the U.S. The mission: use high-quality, hands-on astronomy experiences to change people's attitudes and actions toward the environment.
Why astronomy?
"Two things. One: It's actually the only science. Because everything is part of it," Arion explained. "You can address and integrate and incorporate everything that's out there, all of the processes that have brought us to this point cosmically. It's all one system—geological processes, natural biology, it's everything. The second aspect is that people like it. If you have a telescope, people want to look through it. That gives you an opportunity to talk about something."
Through the Mountains of Stars program, college physics and astronomy students train to be better science communicators and can then become part of the program's environmental outreach, which includes hands-on astronomy and nature activities designed to engage the public and raise environmental awareness, one person at a time. Over nine years, the program has reached more than 65,000 people.
"I hope, over the long term, that we're planting enough seeds that people will actually change what they do and thus change the course of human behavior," Arion explained. "I know it takes time, but you have to start somewhere."
Arion is technically retired now, living on the doorstep of a national forest in a New Hampshire home he designed and taking full advantage of the outdoor lifestyle that goes with it. He still does research and leads entrepreneurship workshops around the world, and he is also involved in environmental initiatives like the international Dark-Sky Association. But it's Mountains of Stars, the mission closest to Arion's heart, that continues to get most of his time and energy. He hopes over time, the program can make the kind of difference that matters.
"This is the thing that's most important to me right now," Arion said. "I hope in the future, someone looks back at it and says we did something good here."
Written by Leslie Miller