Sixteen-year-old Jeremy Shuler subscribes to the theory of "many worlds." It's a weird but, many physicists argue, mathematically sound interpretation of quantum mechanics holding that every possibility—Schrödinger's cat lives, it dies, it was actually a dog—plays out in a practically infinite array of universes.
If true, then in at least one of them, Shuler is an average high school junior in Texas hoping for a B in trigonometry, who just got his driver's license and is excited about the up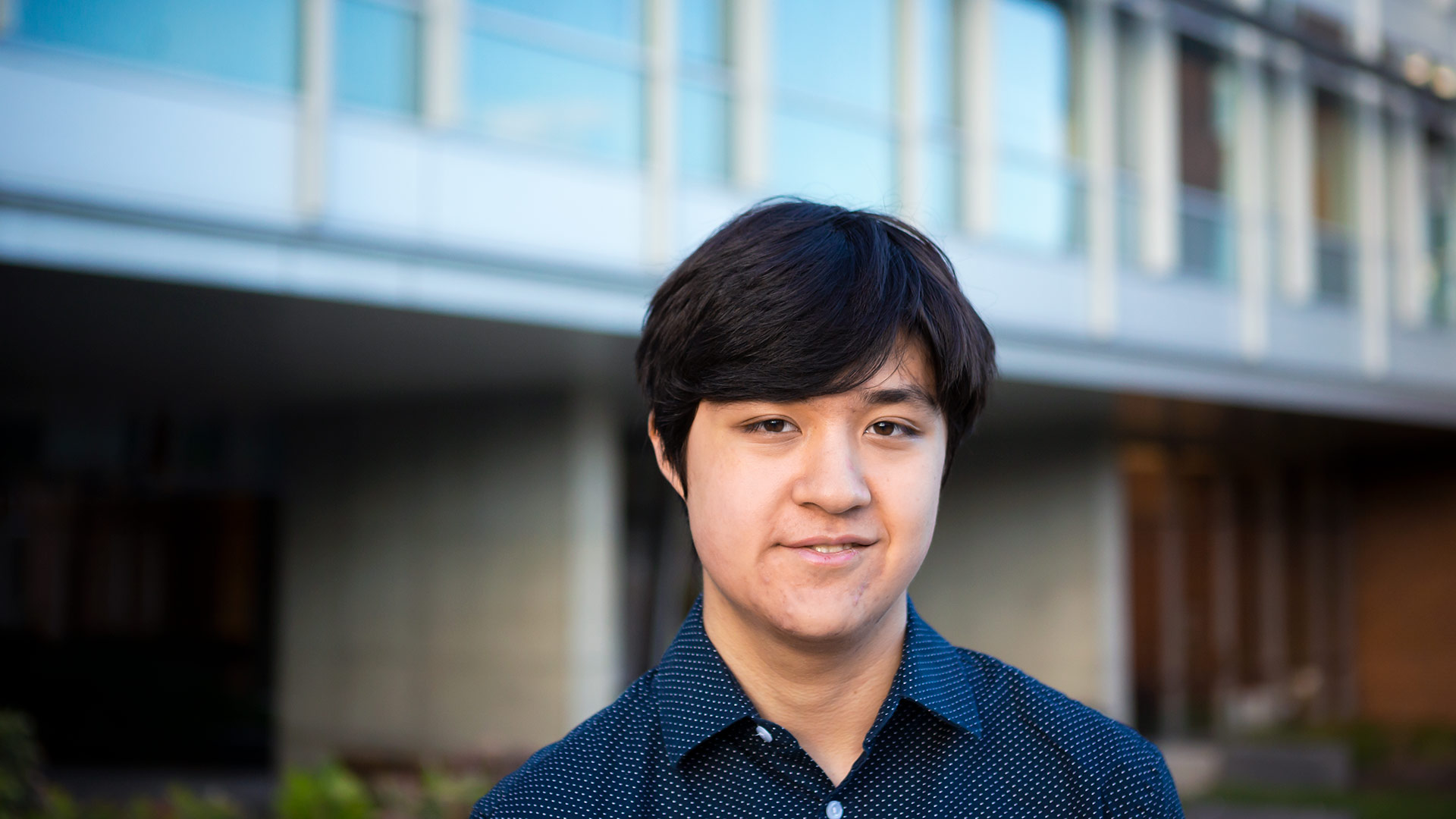 Jeremy Shuler, 16, enrolled to study for a doctoral degree in theoretical physics this year after becoming Cornell University's youngest-ever graduate this spring. (Photo by Stephanie S. Cordle)coming Cowboys game.
In our universe, things couldn't be more different: Shuler can handle differential geometry and complex analysis, rides Shuttle-UM buses from University Park and isn't a sports fan—instead, he's believed to be one of the youngest Ph.D. student ever at the University of Maryland.
He enrolled this semester to study theoretical physics, Einstein's field, which focuses on mind-bending questions ranging from the existence of hidden dimensions to the nature of time.
"The subfield I'm interested in is high-energy/particle physics, which is great, because it's a way to understand the fundamental nature of our universe," he said.
It was already clear when he was a toddler that Jeremy, while maybe not in his own universe, was on a different track than most, said his mother, Harrey Shuler, who is from South Korea. At 18 or 19 months, he asked what she was doing as she typed an email to her family.
"I showed him the Korean consonants and the Korean vowels … I repeated it like twice," she said. "We spent maybe half an hour, and the next day, he could read Korean." A few days after that, he started reading in English.
She was completing her aerospace engineering Ph.D. at the University of Texas at Austin, but decided to homeschool Jeremy rather than pursue a career; Jeremy's father, Andrew Shuler, worked as an engineer at Lockheed Martin in Dallas. The youngster progressed quickly through elementary subjects, then completed online high school courses in two years, graduating at 12.
Accompanied by media hoopla, Shuler in 2016 became the youngest-ever student at his father's alma mater, Cornell University. Andrew Shuler was able to transfer to a nearby Lockheed Martin location, so the family picked up and moved to Ithaca, N.Y.
"Cornell was the first actual school I attended," Shuler said. "But by the end of the semester, I got pretty much adjusted to how things worked there, and the students were pretty supportive of me."
After graduating in 2020, the whole family moved to the College Park area, where Shuler had been accepted in UMD's highly touted physics department.
Tom Cohen, professor and associate chair in physics, said the risk of admitting a student so young is balanced with the possibilities of major reward because of Shuler's natural abilities.
"In terms of straightforward intellectual firepower, he's got it—he can solve a problem presented to him in a way that's off-scale good," Cohen said, adding that math ability is not what set great physicists like Einstein apart. "What's not obvious yet is how creative Jeremy is; that can be tricky for young prodigies."
Deciding his research focus is his top priority, Shuler said, although learning to teach has also been on his mind: "Being a TA is different from anything I've ever done before. I'm a little nervous."
He'll have five or so years to figure out how to corral undergrads as he works on his Ph.D. "By the time he graduates," Andrew Shuler said, "he might be old enough to celebrate with a glass of champagne."
Original story by Chris Carroll: https://today.umd.edu/articles/umd-welcomes-youngest-phd-student-8a23047b-8761-4969-8fe8-5e1734d33679