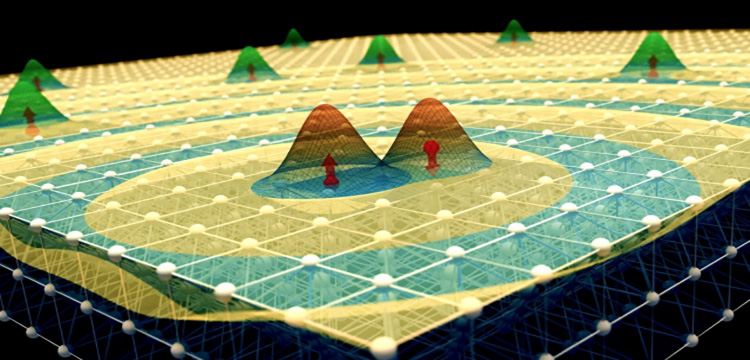 Antiferromagnetic spin-spin interactions are mediated and enhanced by electrons in a superconductor. Graphic credit, S. Kelley/E.Edwards
Jay Sau, in collaboration with physicists from Harvard and Yale, has been studying the effects of embedding magnetic spins onto the surface of a superconductor. They recently report in paper that was chosen as an "Editor's Suggestion" in Physical Review Letters, that the spins can interact differently than previously thought. This hybrid platform could be useful for quantum simulations of complex spin systems, having the special feature that the interactions may be controllable, something quite unusual for most condensed matter systems.
The textbook quantum system known as a spin can be realized in different physical platforms. Due to advances in fabrication and imaging, magnetic impurities embedded onto a substrate have emerged as an exciting prospect for studying spin physics. Quantum 'spin' is related to a particle's intrinsic angular momentum. What's neat is that while the concept is fairly abstract, numerous effects in nature, such as magnetism, map onto mathematical spin models.