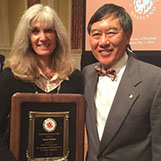 Donna Hammer, Director of Student and Education Services, was awarded the Outstanding Advisor for a Student Organization Award for her role as UMD Chapter Advisor of the Society of Physics Students. Donna was presented the Award on May 1 at the 35th Annual University Awards Banquet held in the Grand Ballroom of the Adele H. Stamp Student Union.
The following is an excerpt from the nomination letter, submitted by the Society of Physics Students, which was read at the award presentation:
Donna meets with our officers on a monthly basis and talks us through our long and short-term objectives for the club. She provides the perfect balance of letting us grow our own ideas, but then following up with us to make sure we are meeting the appropriate milestones to accomplish those objectives. She is great at letting us develop the club and our own leadership skills on our own, but always stepping in should we need additional help or encouragement. I have always felt comfortable contacting her should I need any help, and I know I will get an insightful response or support.