NASA astrophysicist Christopher Stark (Ph.D. '10, physics) is on a mission to broaden our horizons in space
Christopher Stark (Ph.D. '10, physics) grew up in Mt. Pleasant, Iowa, a small midwestern town known in part for one of its most famous natives, James Van Allen, a physicist who was very influential in the development of space science in the United States and even graced the cover of Time magazine in 1959.
"Van Allen discovered the Van Allen radiation belts around Earth and I feel like this was sort of common knowledge in Mt. Pleasant," Stark explained. "I went to James Van Allen Elementary School and my parents happened to live in Van Allen's childhood home at one point."
You might think all that stellar influence would spark a childhood passion for astronomy or maybe even physics. It didn't.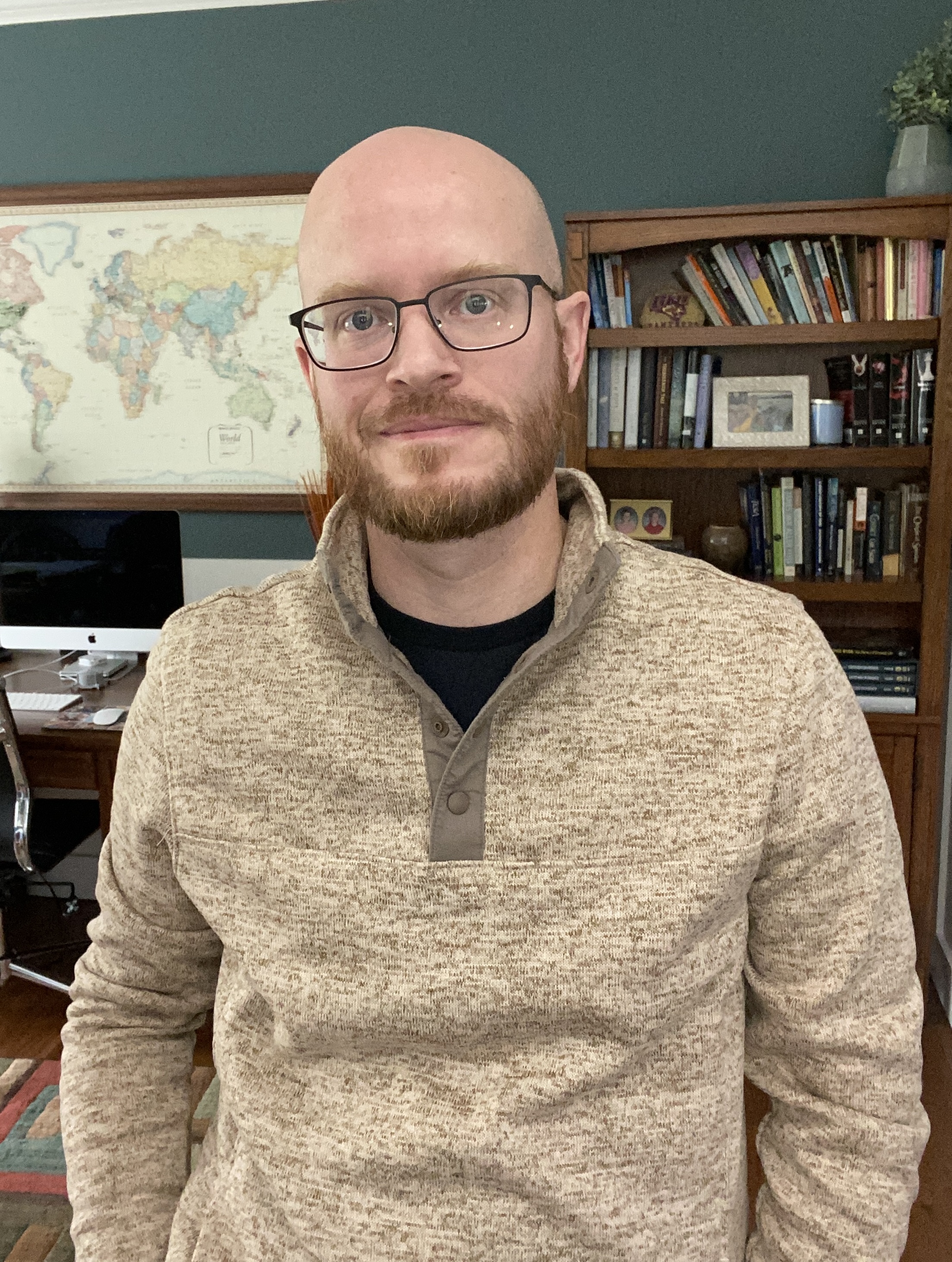 Chris Stark
"In spite of those coincidences, I didn't grow up wanting to be an astronomer," Stark said. "I didn't stargaze at night, I wasn't big into science fiction and space travel, none of that."
But Stark eventually decided to become an astrophysicist, inspired by a college lecture that quite literally changed his life.
"The lecture was about exoplanets," he recalled. "I remember thinking it was unbelievable that we have the ability to detect planets around stars outside our solar system. It was like a lightbulb went off! I knew exactly what I wanted to do with the rest of my life."
Since then, Stark has spent nearly two decades unraveling the mysteries of distant planetary systems and developing tools to study them. In 2020, after years of exoplanet research and mission design, Stark became deputy integration test and commissioning project scientist for the James Webb Space Telescope (JWST)—the biggest, most powerful telescope ever launched into space.
"It's incredibly exciting," Stark said. "Webb was designed to look in the infrared at the faintest galaxies that one would possibly imagine—galaxies so distant that you're essentially looking back in time to the first stars and the first galaxies that were formed. It's an amazing opportunity."
Falling in love with physics
For Stark, growing up in a small town in Iowa was worlds away from a career studying extrasolar planets and planning missions in space. As a kid, he had plenty of energy and liked to build things, encouraged by his industrious parents.
"My dad was a carpenter by trade for quite a while, and I can't remember a time when he and my mom weren't working on a project," Stark explained. "It's difficult to recall being around the house and not helping them with something, like re-roofing their house or laying a limestone retaining wall."
In 1999 when Stark enrolled at the University of Northern Iowa, physics and astronomy were the furthest things from his mind. He was taking economics and marketing courses, looking ahead to a career in business. At the suggestion of his brother, who was also majoring in business, Stark signed up for a course called "The Physics of Everyday Life" to fulfill the physical sciences requirement for his degree. He never imagined what would happen next.
"The class was all about the physics behind everyday things like frisbees, CD players and cellphones. I was enthralled, and I just fell in love with physics," he recalled. "I was learning about the world in a way that I never experienced before."
Stark immediately changed his major to physics and never looked back. His very first undergraduate physics class—and later, that memorable lecture on exoplanets—set Stark's course toward the stars. In fall 2004, he began his Ph.D. in physics at the University of Maryland.
"What really appealed to me was that Maryland's physics department was so flexible with what their students researched, like biophysics and chaos theory and astronomy, which is what I ended up doing," he said.
For Stark, UMD's proximity to major research centers in the D.C. area, including NASA's Goddard Space Flight Center, was ideal.
"I could literally drive 10 minutes to NASA and chat with people there at lunch to see if they had a research project that they would want me to work on," Stark recalled. "I found my first opportunity to research exoplanets at NASA by doing just that."
Gamma rays and debris disks
After his first summer at NASA working on the Fermi Gamma-ray Space Telescope, Stark started working with Mark Kuchner, an expert on debris disks, the hazy dust clouds generated by asteroids and comets around other stars. At Kuchner's suggestion, Stark applied for—and received—a NASA fellowship that funded three years of his Ph.D. research. For Stark, graduate school provided a world of opportunities, not just in research but in academics as well.
"There's some level of knowledge from the traditional academics that you're taught in grad school that sticks with you for the rest of your career," he explained. "I don't know that a day goes by that some aspect of orbital mechanics or quantum mechanics doesn't enter into my thoughts."
After earning his Ph.D. in 2010, Stark moved on to a postdoctoral position at the Carnegie Institution of Washington's Department of Terrestrial Magnetism and spent three more years studying debris disks around distant stars. Three years later, he returned to NASA Goddard as a postdoc working with Aki Roberge, a research astrophysicist in the Exoplanets and Stellar Astrophysics Lab.
"I had been a theorist and an observational astronomer and when I started working with her, I said, 'I've been working in this field for seven or eight years now I really want to get into mission design work,'" Stark explained. "And she said, 'Have I got a project for you!'"
At the time, Roberge was studying a future telescope concept that would detect and image exoplanets. To determine what kind of telescope and other instruments would be needed, she had to develop a tool that could predict how many exoplanets the mission might discover.
"We talked through how we would develop this tool and it turned out that everything I needed to do that project, I had the pieces already," Stark recalled. "Forty-eight hours later, after reading through published papers and a lot of coding, I came back to her with a functioning skeletal structure of how this would work, and I think it hit both of us that we were onto something big."
On a mission: the James Webb Space Telescope and Beyond
Together, Stark, Roberge and their colleagues developed a mission optimization tool that's still being used by NASA today and Stark moved full steam into mission design. By 2015, he'd been hired as an associate scientist at the Space Telescope Science Institute in Baltimore, where he helped guide the design of future space telescopes and worked on the JWST, a huge NASA project that was still years away from launch.
"I was part of the team that prepared to align the mirrors of JWST after launch," he explained. "Those golden hexagons, they all have to be aligned to within a fraction of a micron to work like one large mirror. The alignment is an amazing process, to be able to move around and shape a mirror segment more than a meter in size with such precision."
Stark returned to NASA in 2020, taking on a new role as deputy integration test and commissioning project scientist for JWST, which launched in December 2021 and is now orbiting the sun on its journey of discovery.
"On a day-to-day basis, we're tracking the performance of the telescope and instruments, and making sure that all the information we need is available to understand how the decisions we make impact science as we go," Stark explained. "Working on this mission is thrilling, it's stressful. More than anything, it's humbling. It takes thousands of talented people to put something like this together."
Stark is all about putting things together, and not just space missions. After years of doing construction projects with his parents as a kid, he still has a passion for building things at home in his spare time. No project is too big or too complicated.
"At this point, it's an obsession. Anything that I can build is fair game. Honestly, that may be why I ended up in the position I'm in at NASA," he mused. "I think there's an aspect of designing future space missions that helps satisfy my need to build."
From Stark's Ph.D. studies to his current work on the Webb, every research project and every NASA mission have brought him closer to the dream he's had since his very first day at UMD.
"My goal is to help launch a mission that has the chance of finding another planet that looks like Earth, and maybe even has biosignature gases that could be indicative of simple life," Stark explained.
Stark believes that mission will soon be a reality. And he can't wait to be part of it.
"We have so many exciting missions coming up that get at fundamental questions that humans have been asking themselves for millennia. We're going to fundamentally transform our understanding of our place in the universe," he said. "The next few decades of astronomy is really going to knock your socks off."
Written by Leslie Miller