Distinguished University Professor Edward Ott has been elected to the 2022 class of the National Academy of Sciences, one of 120 members and 30 international members recognized for their exceptional and continuing achievements in original research. Richard Walker from the Department of Geology was also chosen.
"I am thrilled that Dr. Ott and Dr. Walker have been elected to the National Academy of Sciences," said Amitabh Varshney, Dean of the College of Computer, Mathematical, and Natural Sciences (CMNS). "They are world-renowned scholars and leaders in their fields. This honor is richly deserved, and we are proud to have them as colleagues here at Maryland."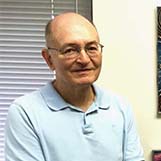 Ed Ott
Their election brings the number of CMNS faculty members in the National Academy of Sciences to 18.
Ott holds appointments in physics, the Department of Electrical and Computer Engineering, and the Institute for Research in Electronics and Applied Physics. He has spent his career conducting research in areas including the basic theory and applications of nonlinear dynamics, wave chaos, control of chaos, fractal basin boundaries, dynamics of large interconnected networks, chaotic dynamics of fluids, models of brain dynamics and learning, and weather prediction.
Of his NAS election, he said, "I feel greatly honored by this recognition of my work, and also regard this as a recognition of the important role that the general field in which I have mostly worked—nonlinear dynamics and chaos—is now playing in science and technology research."
Ott was nominated as a foreign member of the Academia Europaea in 2020 and is a fellow of the IEEE, American Physical Society, Society for Industrial and Applied Mathematics and World Innovation Foundation. He received the A. James Clark School of Engineering Outstanding Faculty Research Award in 2005.